Horny Fit Stud & Cute Asian Twink Workout At Home!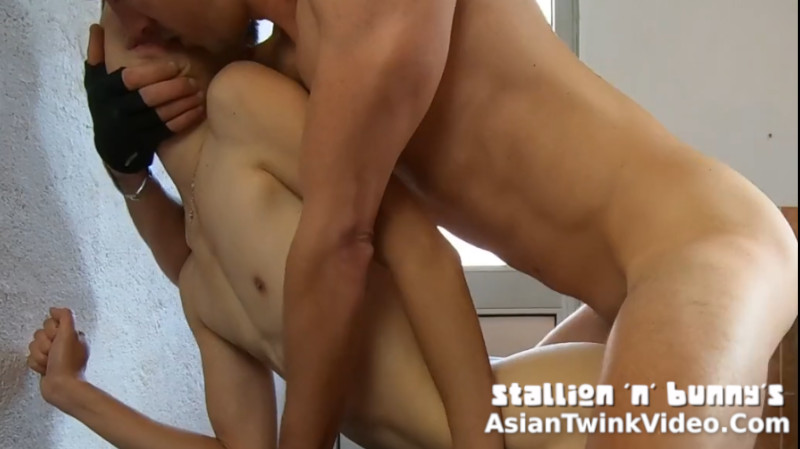 Adventures of Stallion and Bunny – Episode 184
THIS VIDEO IS ONLY FOR OUR FANS. HOW CAN YOU BECOME A FAN?
Join our fan club on Onlyfans.com or on Justfor.fans to see all of our premium content!
Choose one of these options to become a fan:
Join our Onlyfans.com page!
or
Join our JustFor.Fans page!
Watch preview:
Become a fan and watch the full video:
---
It's a chest day again, and that means hot gay gym buddies helping each other out with weights and sometimes, giving each other a hand, or a mouth..
The cum stained bench is set up for some more action. We stretched out and started to bench press with bigger and bigger dumbbells.
Although it's chilly Christmas season outside, it soon got too hot for us to stay in our sweaty tees. We started to strip while going up with our weights, with my sweat glistening on my necklace.
I sat by Stallion's feet half-naked by the bench to catch my breath after every set.
Feeling Stallion's masculine perspiration inching in on me, then his strong pumped arms around me and his lips on mine, looks like my champion wants his reward already after his hard work.
So I loosened his shorts to let his boner catch some air and stuck out my tongue to let him claim his tight reward!
Now only in our sneakers and dirty socks, he let me worship his pecs tight and pumped and then stretched me flat onto the sweaty bench to fully enjoy his boy's tiny tight ass.
He rimmed me to ecstasy, making me clench onto the chair and began to rail me against the wall.
I grabbed the bench tight as I can as he fucked my precum out all over the bench. He dominated my ass while holding me tight, pounding while kissing me, knowing what his sub deserves and did just that, stretching my legs to the sides and breeding me in with his heavy load as deep as he possibly can.
I felt his stream oozing out of my wrecked hole, and drops of boiling cum still raining down from above as he pulled out.
Wasted on the bench, my still hard stud continued to finger and lick me till I jizzed onto his gloves, spasming from the prostate orgasm!