Gay Twink Edging and Milking His Man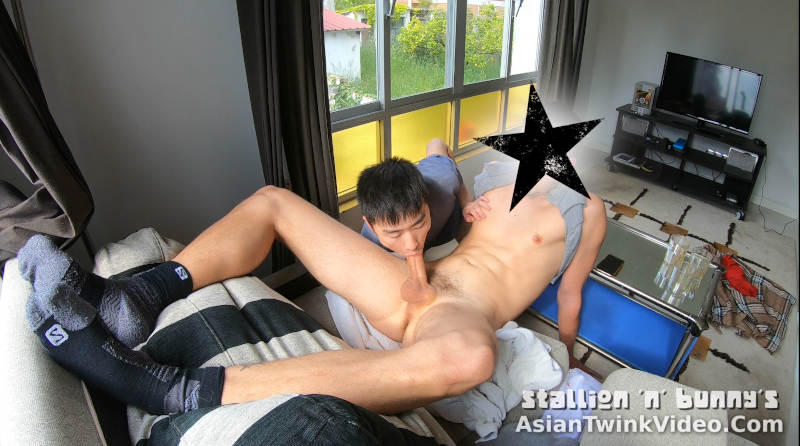 Adventures of Stallion and Bunny – Episode 69
THIS VIDEO IS ONLY FOR OUR FANS. HOW CAN YOU BECOME A FAN?
Join our fan club on Onlyfans.com or on Justfor.fans to see all of our premium content!
Choose one of these options to become a fan:
Join our Onlyfans.com page!
or
Join our JustFor.Fans page!
Become a fan and watch the full video:
---
About a minute of near orgasmic rush, his cum began to uncontrollably spew out from the hose
Payback time for Bunny.
I was played by Stallion like a his Asian toy boy, spanked and milked on the floor last time, so this time when I saw Stallion stripped naked to sunbathe by the window after a whole week of rain, with his cock hard, I knew I had to take revenge on him…
Finally a sunny afternoon in this gloomy confinement, Stallion stripped naked to make the best out of it.
Seeing the sun glazing his ripped body to glisten like golden toned sculpture, I couldn't resist and went closer to worship and kiss his body madly.
I rubbed down his abs and grabbed his weapon which is already hardened by gay nipple-teasing.
I began exchanging tongue kisses while holding his big piece.
I could feel the blood pumping up as I worked on it, taking full control and licking all the sensitive spots.
I started to jerk on mercilessly, making Stallion pant quicker and quicker and I felt his juice being pumped up to the extreme, but I wouldn't let him go this easy, I stopped and held hard to deny the eruption then continued to lick his side making him moan and tremble being so close to relief.
About a minute of torturing and near orgasmic rush, his cum began to uncontrollably spewing out from the hose, spurting on his stomach with my hand holding firmly on.
I rubbed down to squeeze out every last drop of his flying thick jizz before exploding onto his stomach having jerked mine with his slimy fluid.
What a humiliating defeat for my man now lying with a puddle on his stomach…