Cock Sucking Asian Twink Gets Facial From His European Boyfriend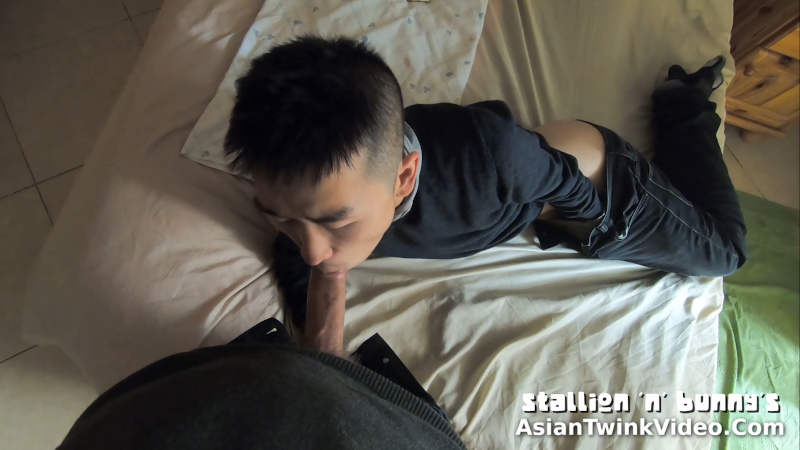 Adventures of Stallion and Bunny – Bonus Video
---
He looked at me with his innocent eyes, as I pushed my hard cock in his little cherry mouth
Memories from the Treasure Island. Using my fresh-cut boy just before going out, a good facial is all he needs to get off.
Excited for the trip ahead, my cutie went for a hair-cut.
He came back all fresh and jolly, still in his jeans, wanting to ask me that how is it. I told him the truth, and he gave me a kiss.
I ran my hand through my cute boy's bristled hair and threw him on the bed, time for some fun.
He looked at me in reverse on the bed with his innocent eyes, I pulled my hard tool out as a stark contrast with his little cherry mouth.
I pried it open and began fucking his Chinese boyish face upside down, getting to the deepest possible point in my teenager's throat.
Bunny struggled to take it unconditionally.
His tiny tract make me even more pump, sliding in and out of that little face.
He jerked on his cock, hard from the domination he's getting
He jerked on his cock, hard from the domination he's getting.
As he reached his climax ejaculating from his curved piece, I pulled out to shoot my thick spunk down at his face, spurt after spurt.
The creaminess ran across his face into his eyes with new thread thudding down on the lips.
As the last drop dripped down from the tip of my tool, he cheekily grinned at his man with one eye closed. We got our daily fix.