Asian Twink Boy Milking His White Boyfriend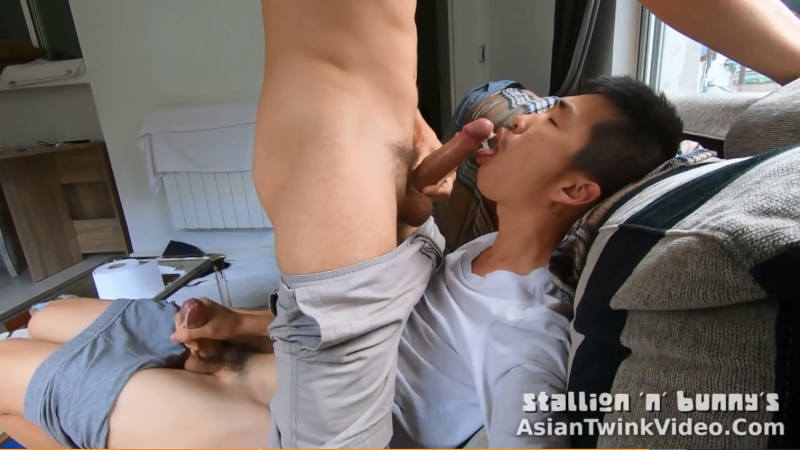 Adventures of Stallion and Bunny – Episode 58
THIS VIDEO IS ONLY FOR OUR FANS. HOW CAN YOU BECOME A FAN?
Join our fan club on Onlyfans.com or on Justfor.fans to see all of our premium content!
Choose one of these options to become a fan:
Join our Onlyfans.com page!
or
Join our JustFor.Fans page!
Become a fan and watch the full video:
---
Face-fucking my pet boy
Naughty Bunny's restless wanna get milk all day, so I climbed up, stretched out the window to catch some afternoon sunshine, meanwhile fucking his little face down there, neighbors wouldn't have a clue.
I bred down his throat making him cum hard at the same time…
Bunny needs all the protein to enhance his immune system to fight the virus and I've got some to spare.
To make it double, I'm gonna regenerate my juice by getting some fresh air and afternoon sunshine meanwhile.
So I press my Bunny down to my milk hose and let him take it in as deep as he can.
I'm face fucking my pet boy in his milk white t-shirt while sunbathing my upper half body pretending nothing's happening down there, I could feel how I'm channeling all the energy into my every thrust down his face. He drops down his panty too to jerk his.
Fucked all the cum down deep into his throat
I hold onto to the backrest of the sofa to pump him harder and harder, and the depth of his wonderful throat gets me so close I pull out to spurt all the protein onto Bunny's tongue then I fucked it all down deep into his throat, making the twink swallow cum, the rich thick taste makes him uncontrollably ejaculate at exactly the same time.