Asian Twink Sucked By His White Stud Bf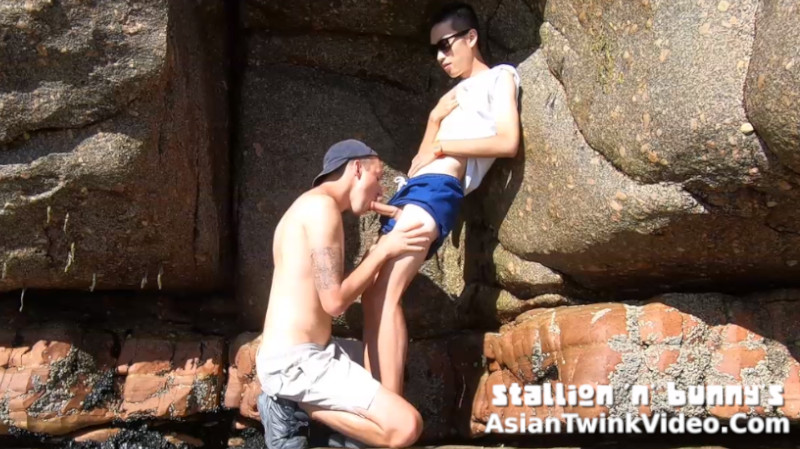 Adventures of Stallion and Bunny – Episode 116
THIS VIDEO IS ONLY FOR OUR FANS. HOW CAN YOU BECOME A FAN?
Join our fan club on Onlyfans.com or on Justfor.fans to see all of our premium content!
Choose one of these options to become a fan:
Join our Onlyfans.com page!
or
Join our JustFor.Fans page!
Become a fan and watch the full video:
---
Giving Stallion his first facial while he came simultaneously onto my sneakers!
Scaling the rocky shoreline again just the way we used to, but this time on another side of the Mediterranean.
Like two gay horny hikers  we played hide and seek with Stallion hopping up and down the rocks, when I hid under a rock.
And when my hunky Stallion finally caught me with my hard-on tenting my shorts up, he gave a big surprise… Love it how his stubble pricks on my most sensitive part…
Nothing more shameful than getting caught with a hard-on tenting out from your shorts, the more you try to hide the more you excite your piece.
I got so worked up that my erection's already looking out from below my trunk when I saw my hunky Stallion coming from the direction where the sun's shining like a godsend.
Stallion came under the rock with his cap flipped back like a bad bad angel hungry for some outdoor cruising, and then seeing him kneeling down in front of me like a proposal and took in my cock to give me a blowjob that would blow my mind.
If anyone would see this suck-off in nature by a real couple, they would definitely be so turned-on that they'd want to join. As my bf gave me a deep-throat, he began to jerk his throbbing cock between his muscular thighs kneeling on the ground.
Admiring the view being sucked by your loved one while he played your nipples, the sensation was so intense I was edged to an uncontrollable ejaculation, giving Stallion his first facial while simultaneously cumming on boy's sneakers.
Seeing this very special moment when my jizz hanged on Stallion's stubble made his smile seem brighter than the sun…