Fucking Naked on the Beach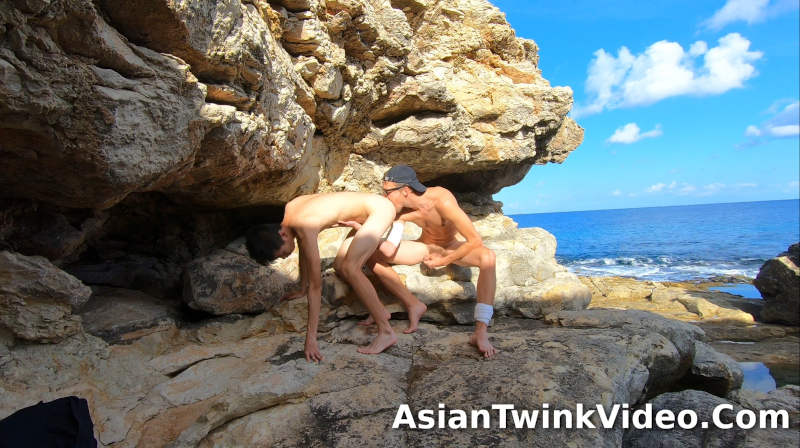 Adventures of Stallion and Bunny – Episode 22
THIS VIDEO IS ONLY FOR OUR FANS. HOW CAN YOU BECOME A FAN?
Join our fan club on Onlyfans.com or on Justfor.fans to see all of our premium content!
Choose one of these options to become a fan:
Join our Onlyfans.com page!
or
Join our JustFor.Fans page!
Watch preview:
Become a fan and watch the full video:
---
He bent me forward and started to rim my hole while playing my cock reaching from behind
We went out to catch some sunlight and ended up dipping boldly in the cold sea water naked. Stallion then took the chance to rim and then fucked the hell out of his wet twink boy right there on the rocky shore…
Living on an island by the sea is a horny notion, as there's nothing hotter than the possibility of getting wet and salty before having hot gay sex on the beach.
When the long summer is gone, sunny days like today are even more appreciated in the stormy season.
We went off from a frequented path towards the sea in the middle of the day, and just over a drop we found this prime location for this skinny dipping gay couple in and dry under the sun.
The pristine blue waves come and go gently into a ravine, while the fishing boats sail by not far out in the distance. Stallion raised the idea of us stripping off to dip naked in the sea.
I was too shy for this because anyone could come by from above and all the boats could easily see us, but he persuaded me to drop off everything and go for a swim in the winter sea.
I looked around and we started to strip, finally taking off the underwear, standing naked on the torrid rocks. Stallion urged me to go into the water, so I reached in.
The cold water sent chill up my spine but it was so refreshing that I tentatively went in deeper into the ravine. Stallion came after me and we had to keep moving to fend off the chill, but luckily the sun could shine through the cloudless sky. I went in with my head to get wet and clear my head and before I realize that Stallion has already get onto the other side, standing there naked and exposed with his hairy hung cock, grinning naughtily at me.
I climbed out too from the sharp rocks with his help to not freeze in the water. He pulled my hand as I slowly revealed my butt and whole body from the surface.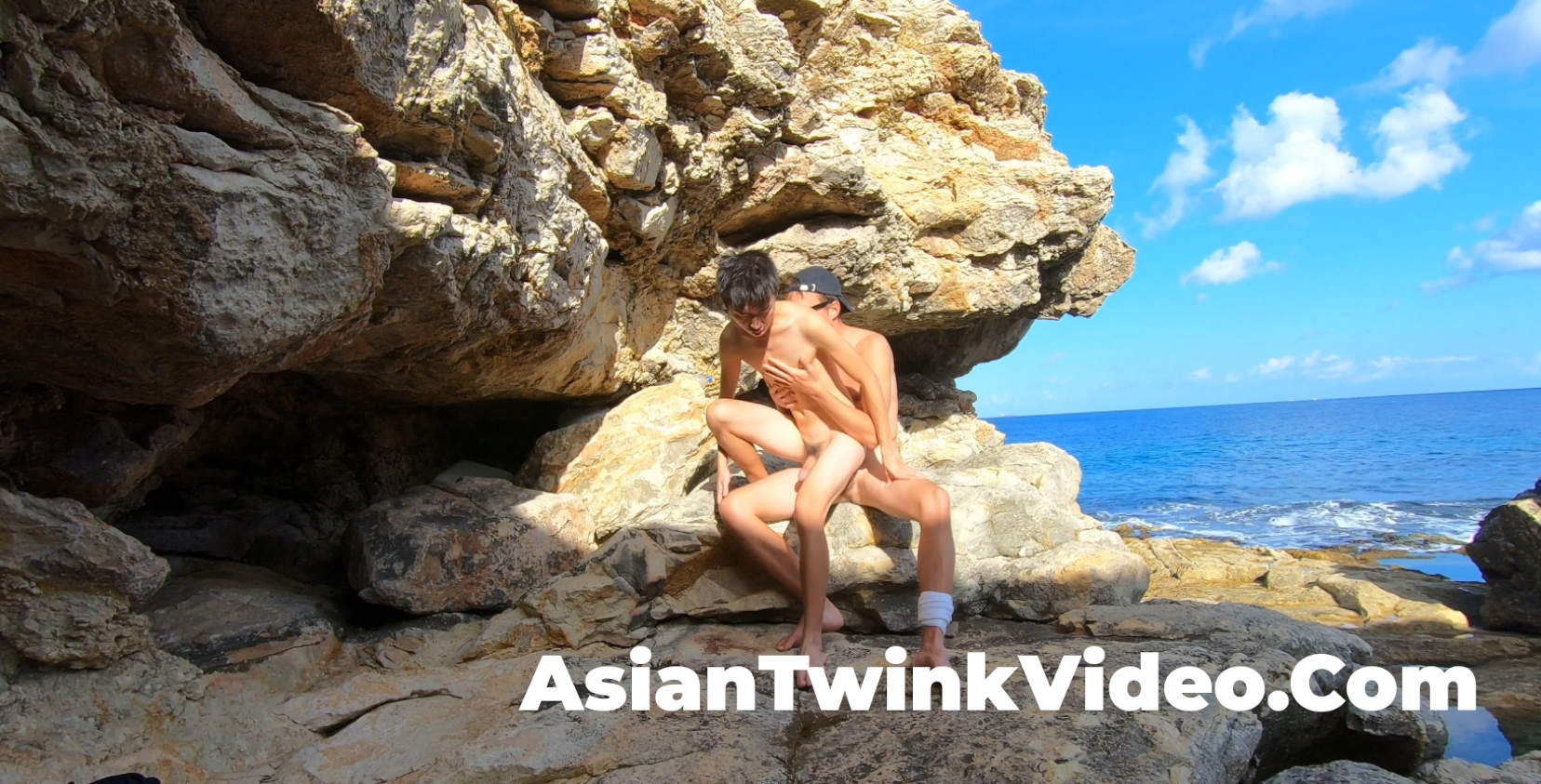 Stallion got reminded of our timid but rough gay sex after snorkeling in speedos just not long ago in the summer and was really turned on by my rare boldness as I went around bare-butt up and down the rocks.
He seems to get a bit excited and grabbed me by my waist and dragged me closer to him standing in sunlight. We hugged and as our salty and chilled down body touch, we immediately got hot and started to exchange kisses standing there right on the beach.
Stallion's cock slowly got stiffer and he took me behind a half-covered rock and started to play around my nipple and butt. He groped all over me giving me a hard-on and started to kiss my bum before sticking in his tongue to pry into my most sensitive spot.
He bent me forward and started to rim my hole while playing my cock reaching from behind.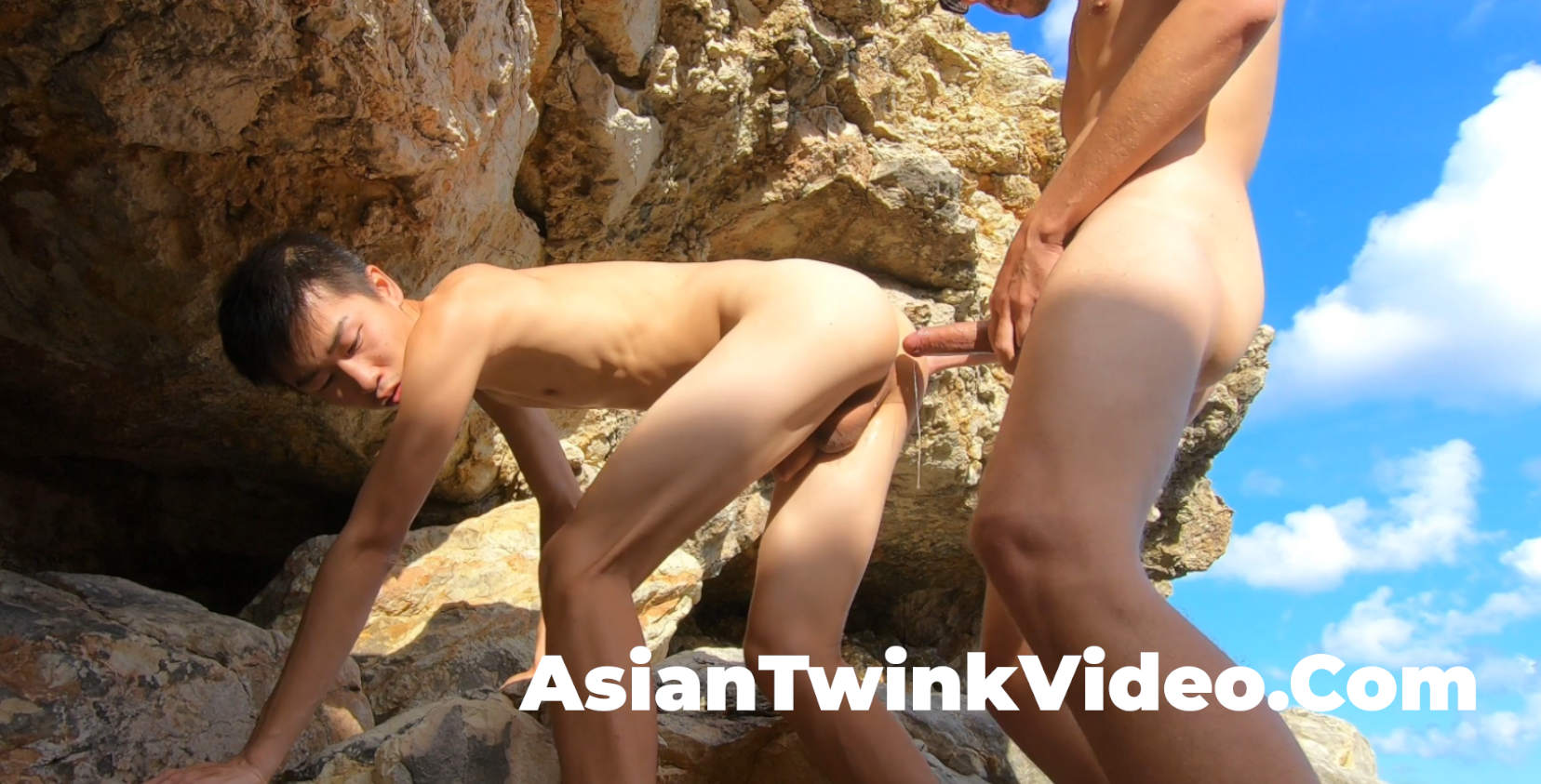 He ejaculated all over my back side before pushing his cum in my twink ass again
I had to spread my legs as he pleasures me from below. He started to jerk me while burying his head in me, getting me so close that I took his hand down and shot my hot load onto his hand as his tongue goes deeper into my private spot.
Stallion then took me up, with cum still dripping from my cock. He sat down on the rock, and had me knelt down to suck his huge white veiny cock. I took him all in as he leans back with one hand holding my head. The sun shines on his glistening toned body as he pushed my head to wrap in my fisherman's rod.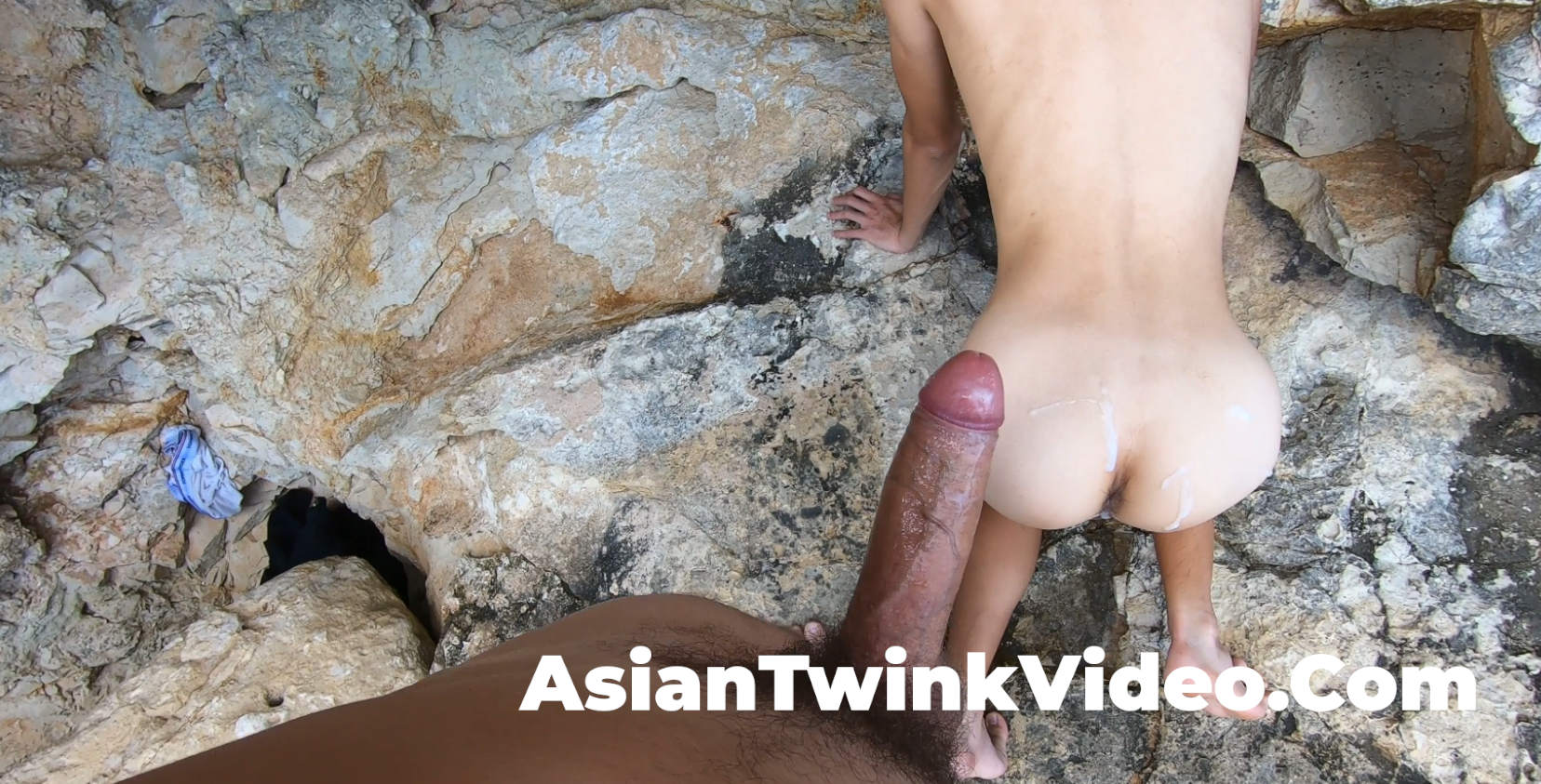 He wants more so he turned my around to teach me a lesson. He backed me up and forced me to sit in his lap. I slowly squatted down to envelope and finally was pressed down to take the whole rod. He then held my legs up to let my weight all fall onto his cock and fucked me hanging on his arms.
We were entirely exposed at this point with boats sailing just behind Stallion's back, seeing me taking him right on this rock, but the pleasure is overwhelming as we fuck exposed. Stallion quickly took me up again with his cock still buried in my ass and started to pound me with me leaning forward on a rock.
I was gaped and moaned loudly in the ravine. He then bent down to have me down on my fours serving up my bum-hole. Pushing it all in, rough fucking in a rough terrain is making us so horny. And as my stallion pulls out he moans and ejaculated all over my back side before pushing his cum in again, impregnating me right on the spot. As we were still reeling from the hot fuck, a boat was coming closer to check out what's going on…