Sweaty Fucking on a Scaffolding Like Horny Gay Construction Workers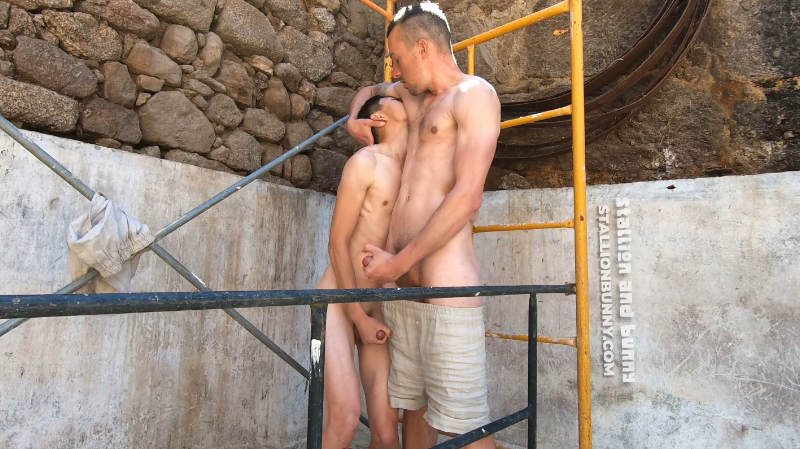 Adventures of Stallion and Bunny – Episode 193
THIS VIDEO IS ONLY FOR OUR FANS. HOW CAN YOU BECOME A FAN?
Join our fan club on Onlyfans.com or on Justfor.fans to see all of our premium content!
Choose one of these options to become a fan:
Join our Onlyfans.com page!
or
Join our JustFor.Fans page!
Watch preview:
Become a fan and watch the full video:
---
Stal stood on a rod to serve his meat right at my face level, fucking my throat hard as I grabbed on tight to the beam!
Rome is not built in a day, so isn't our barn.
We kept ourselves busy setting up the scaffoldings all morning and by noon it's already so hot and sweaty that the gay construction workers ended up only in our linen shorts, with no underwear inside.
Stallion's big horsy part seemed restive by this hour already, half visible as he sweated, and he's not minding it getting in the way either, showing off that tool of nature.
As his bulge slowly protruded into my space, it got a bit too distracting for me to resist. We stood on different sides of the base frame, with his big erections resting on the horizontal metal tube, putting his excitement on display.
I went close and let him tease me first as he liked and he went for my shy nipps staight away, giving me an immediate boner, just to get played with by him too.
But we know who's the senior worker here today, so I paid my respect, sniffing and licking his manly armpit, enjoying all his hormones while giving him a handjob right on the spot.
The scaffolding became our playground.
Stal stood on a rod to serve his meat right at my face level, fucking my throat hard as I grabbed on tight to the beam.
His boots squished on metal, making the metal squeak as he reel in pleasure.
Before long, I found my shorts dropped to my knee and cheeks spread and bussy rimmed hard making me moan uncontrolably like a bitch boy.
He then penetrated deep in my hole well rimmed and lubed, shoving his meat all the way up my body impaling me right on the construction site.
I stood on a beam to make up for our height difference and he rammed me hard standing on the other side.
I held on tight on the cross bars on the opposite side to balance myself from the heavy pounding.
The work was loud. He then took me back into his fold sitting me down on a tube and slid back in hitting my spot making me cum hands-free into his palm.
But he's not satiated yet, thrubbing in his big tool deeper and deeper into his coworker's bum until injecting it absolutely full of his seeds. I felt the strong pumping up my tummy as I surrendered myself to my big working man.
He then slowly backs out his throbbing cock after a minute of orgasmic panting, letting that excess slush down onto my thighs and legs. He then pulled up his shorts, tucked back his tool and carried right on to finish the work we started…