He's Begging Me To Destroy His Tiny Twink Ass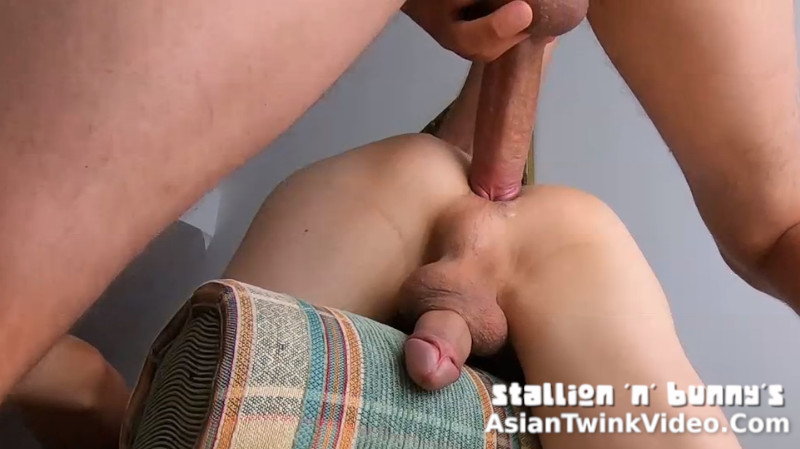 Adventures of Stallion and Bunny – Episode 8
THIS VIDEO IS ONLY FOR OUR FANS. HOW CAN YOU BECOME A FAN?
Join our fan club on Onlyfans.com or on Justfor.fans to see all of our premium content!
Choose one of these options to become a fan:
Join our Onlyfans.com page!
or
Join our JustFor.Fans page!
Watch preview:
Become a fan and watch the full video:
---
Stallion is always horny as fuck in the morning with a huge erection
My boy-puss got destroyed on our couch this morning…
Living in our tiny flat by the sea, we could hear neighbors getting up and having family breakfast early in the morning, and people jogging down the road right in front of our door, but waking up with Stallion means trouble, as he's always horny as fuck in the morning with a huge erection, so he'd always have to silently fuck his twink.
This morning was no different. We woke up a bit late and as he was coming to hug me naked from my backside when I was preparing and cooking breakfast. I felt his protrusion on my back as he rubs it up and down my back while groping everywhere around my hardened twink nipple, waist and ass, giving me a hard on as well. I knew we'd have to finish off before we can get to the door as I'm so aroused as well. I turned back my head and we started to kiss as he rubs his rob between my ass-cheeks, he then suggested we lay on the sofa to cuddle and kiss, I jumped onto the sofa, leaving the coffee boiling on the stove.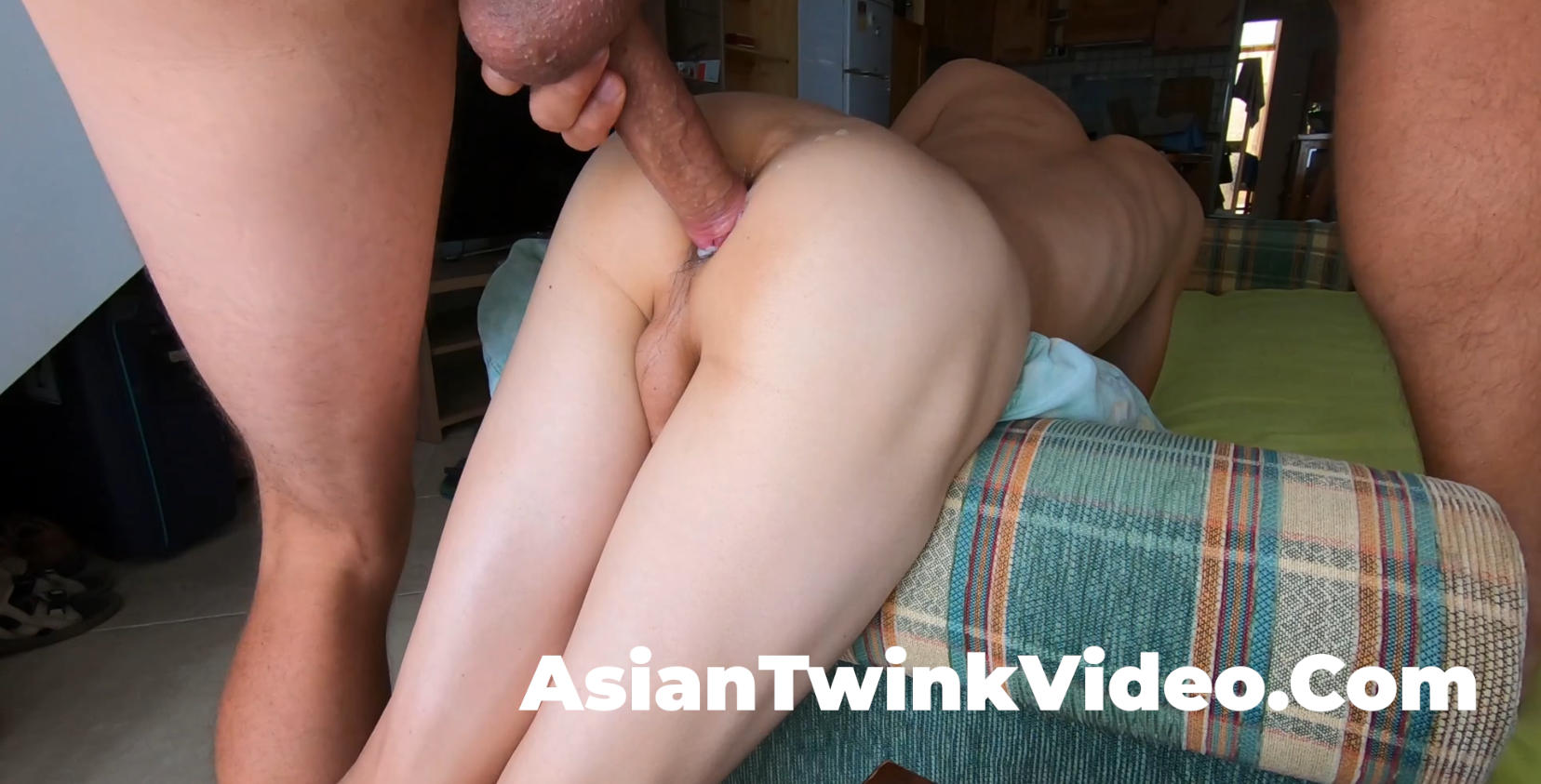 Stallion snuggled on too, jumping on top of me, kissing and caressing me, enveloping my under his body. I reached down with my hands to stroke him, going up and down with my body, as if taking his cock in, this got him so uncontrollably horny. So he turned me around with me kneeling on the sofa, stood with one leg on the floor and started to knock my door with his huge cock.
He pushed his cock back and forth in my ass until my hole was completely wet and lubricated with his spit
We never use lubricant because we like it raw, he spat on his cock and my hole, his fluid dripping down my thighs onto the floor.
He then approached by rubbing my hole with his wet tip of the cock wetting it through and tentatively trying to stuff that meat rod into my tiny ass. He pushed against my tiny hole, and couldn't go in at first try, so he starched my cheek with his big hands and tried again. I felt the tip ramming in my hole as I moaned loudly: "slowly!". I struggled to hold my voice as he inserted deeper and deeper dry.
I clenched myself to the sofa when I felt half of his piece in me, hitting the g-spot, I had to tuck in my legs to take it, making it even tighter for Stallion. He pulled out and went back in back and forth, every time deeper, until my hole is completely wet and lubricated with his spit, he came all the way in with a groan, leaving me penetrated holding my tongue when the neighbors walked right by the foggy windowed front door right beside our couch.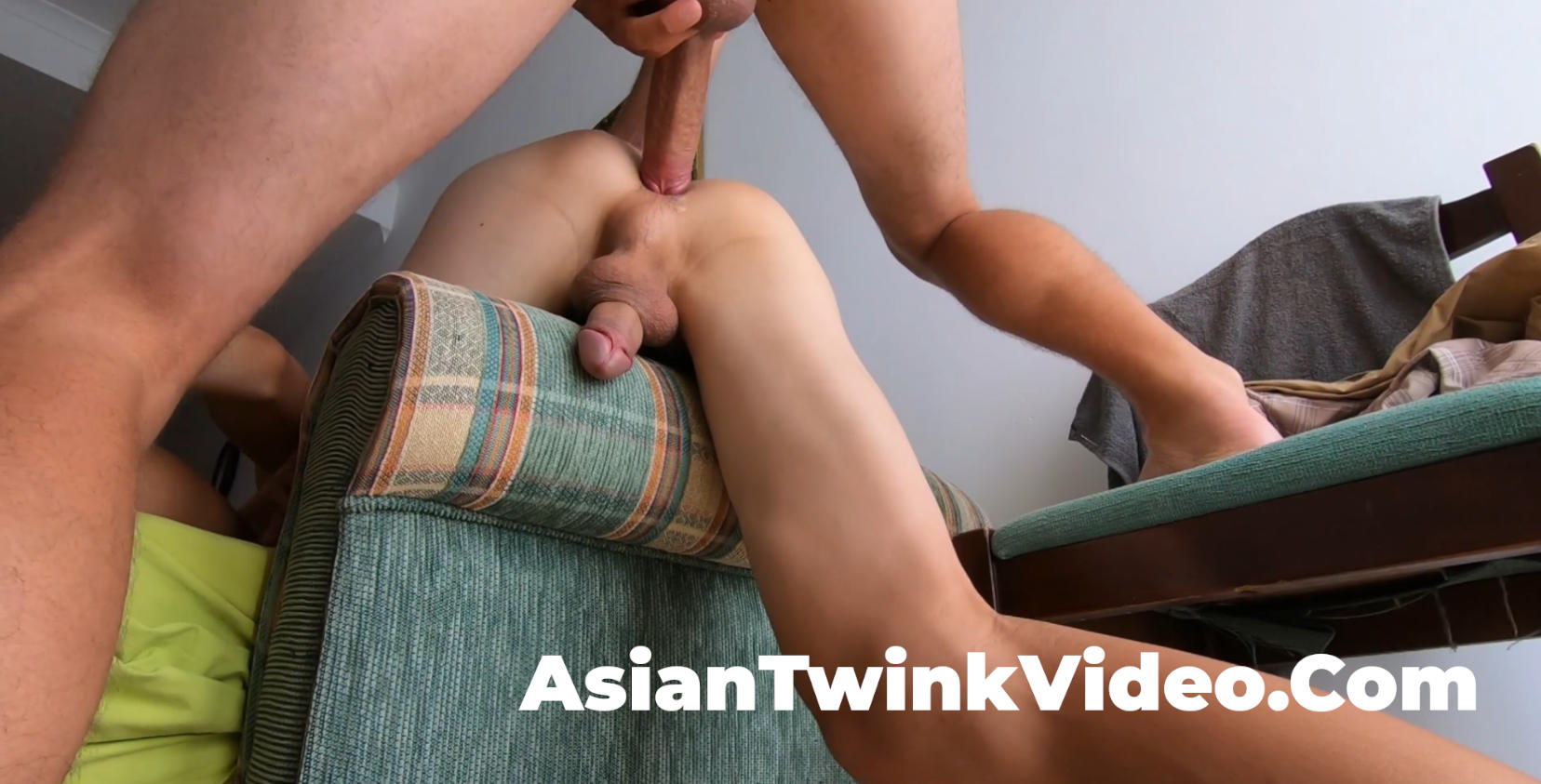 He's dominating my ass, and I had to take it
After a full session of humping, he put me on the hand rest of the couch, making my ass tucked out so he can penetrate me deeper.
He rode onto me squatting on the couch, pushing his cock deep while I had nowhere to hide. He was destroying me from above as I try to support my upper body, making my hole even tighter.
He's dominating my ass, and I had to take it. He started to come down harder and harder and finally I felt a hot stream shooting to the extreme of my ass as he pulled out unloading the rest onto my cheeks.
I was bred right there in front of the door, with his cum still dripping down from my back and hole.