Asian-White Gay Couple Giving Each Other a Hand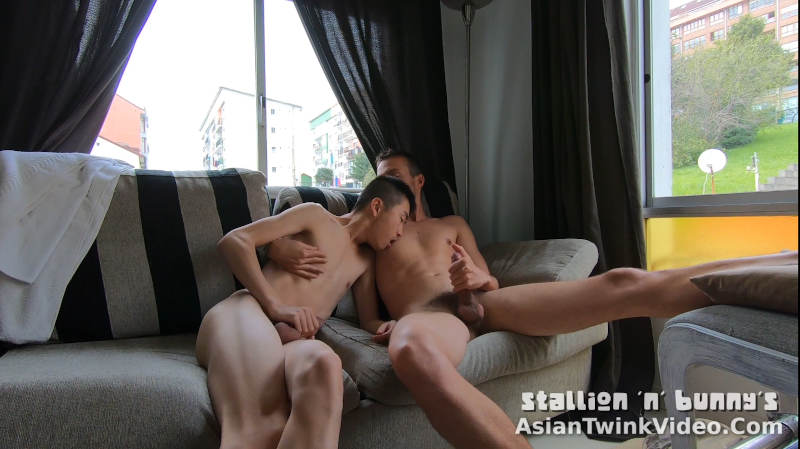 Adventures of Stallion and Bunny – Episode 54
THIS VIDEO IS ONLY FOR OUR FANS. HOW CAN YOU BECOME A FAN?
Join our fan club on Onlyfans.com or on Justfor.fans to see all of our premium content!
Choose one of these options to become a fan:
Join our Onlyfans.com page!
or
Join our JustFor.Fans page!
Become a fan and watch the full video:
---
I lay on his lap, his big cock towering over my face and began jerking it looking back at him
Corona Lockdown, Day 12.
Keep calm and carry on! It's important to give each other a helping hand in this hard time. Lost the race cumming first in Stallion's hand, just like the quickie with twink outdoors in nature he just had not so long ago..
We tried to abstain for a day or two after some intense action from yesterday, but our cocks were hard as ever after the morning coffee. We both knew that we ought to rest a little more, but when we cuddled and Stallion reached for my crouch, I couldn't help it but to let him have his way with me.
I saw his big cock tenting up in his pants and slid my hands in to give him a hand too.
We tried to resist the desire to end up fucking again, but Stallion's cock and mine had to be satiated, so I lay on his lap in front of his big piece towering over my face and began jerking it looking back at him.
As he clenched my erection hard and stroke it hard, all the morning vigor was easily channeled.
As he ejaculated squirting load after load, his cum was sliding down his huge dick onto my little hand
I was on edge so much feeling mine jerked in return, that mutual satisfaction multiplied so intensively that I begged him to stop, before he refused and jerked me to the final relief, powerfully thrusting onto my own stomach.


Stallion watched on as I shiver in joy and feeling his piece being worked so hard, he couldn't take it from the thrill and finally ejaculated squirting load after load and his cum dripping down the cock onto my little hand then trickled down his perineum.
Covered in cum again, we lay back, looking at each other and chuckled, with a sense of guilt for our lust.