Gay Twink Hikers Outdoor Porn
Adventures of Stallion and Bunny – Episode 71
THIS VIDEO IS ONLY FOR OUR FANS. HOW CAN YOU BECOME A FAN?
Join our fan club on Onlyfans.com or on Justfor.fans to see all of our premium content!
Choose one of these options to become a fan:
Join our Onlyfans.com page!
or
Join our JustFor.Fans page!
Watch preview:
Become a fan and watch the full video:
---
My big boy picked me up and had me lean forward on the rocks, then went down on me rimming my twink hole to prepare for his domination in my boy-pussy
At long last, we could sneak out to have a good time in nature again. Being able to hike by the sea has never been missed so much, so has something else slightly more physically demanding…
Resting on a bench by the trail, so horny and daring we were that we started to grab each other's crotch and ended up fucking the cum out of bottom boy Bunny before breeding my twink outdoors on the grass right there out in the open.
Exploring places we've never been to can be adventurous and tiring at times when you have lost count of how long you've been walking. Finally found a bench to rest our feet a little.
Sitting down and seeing nor hearing nobody around at this hour of the day, we find ourselves finally left alone in nature, hopefully for a while.
As our body and mind were getting excited by surrounding liveliness, our underparts were too, so we looked around before starting to kiss and already I was reaching for bunny's bulge while he reached for mine, ignoring the fact that we're just sitting by the trail.
As Bunny got me hard and stroking it, exposing my cock. I got braver and stood up onto the bench to tap his face too, thrusting into his tiny mouth and shoving my sweaty cock until the root.
Bunny sat in his place bending his head to serve me just like a normal hiker taking a rest.
As the action got out of control, I took it to another level by kneeling bunny down on his fours onto the grass and knelt down myself to gape open his backdoor.
The risky gay hiker sex it all made me so horny with pre-cum that I slid in his tight hole all at once, making him moan and bend upward in reflection.
I then push him right down and began pounding my Bunny right there in the open with my backpack still on me.
He convulsed in pleasure as he contracted his legs that were spread open with my thrust, and came shooting his load onto the grass and into his knickers, staining everything he was in and around.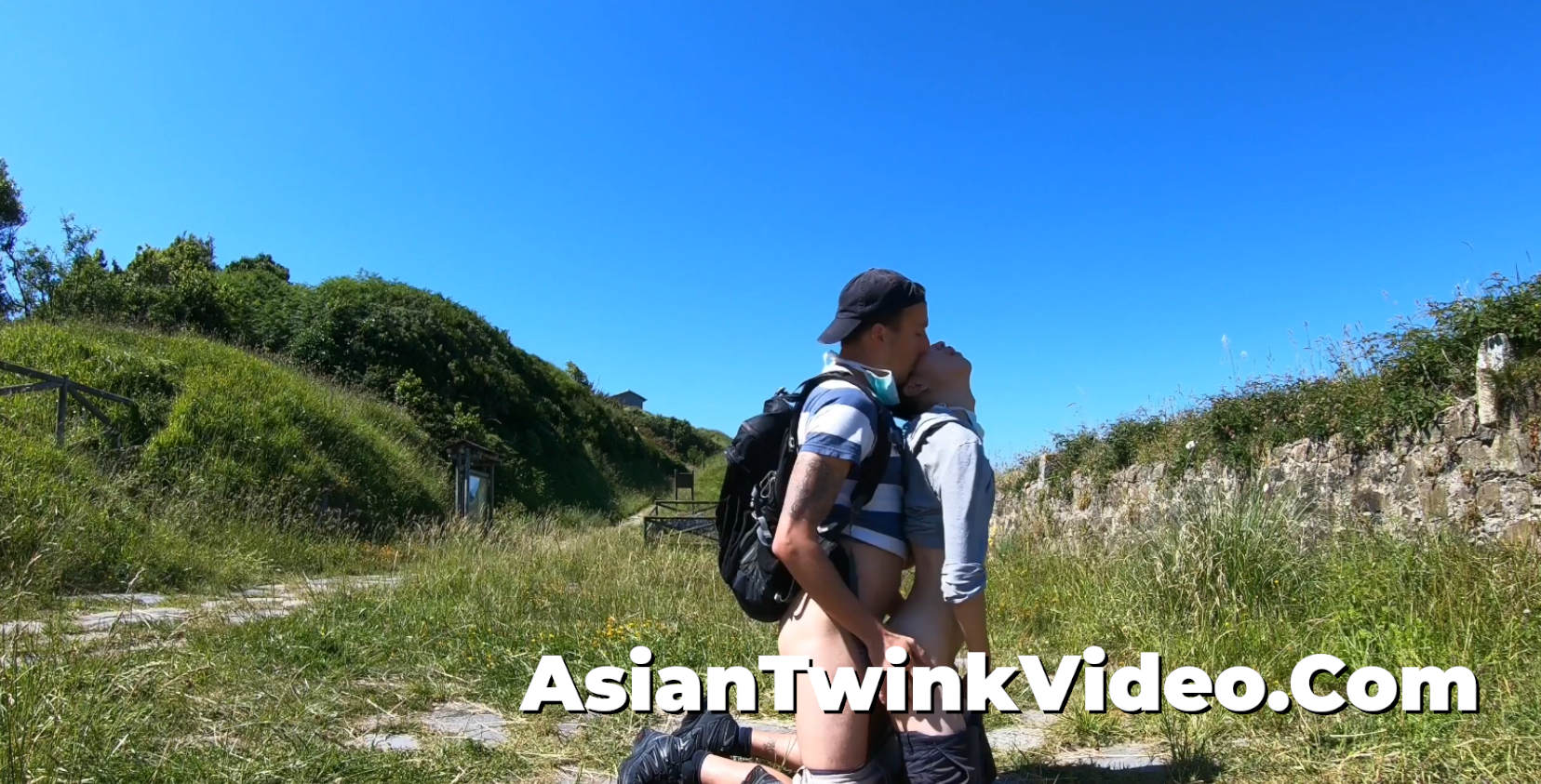 The ecstatic pulsing and the exposedness begged me to make my foray past his g-spot to the deepest point to thrust all my load inside spurt by spurt, waves of orgasm bound us together before throwing bunny off balance back onto the ground, panting like a little animal drenched in semen.
I pulled out of his still trembling little body and wiped the rest of my jizz onto that perfect peachy ass cheek, a lot of cleaning to do before anyone comes..