Master Breeds His Twink Boy in Dungeon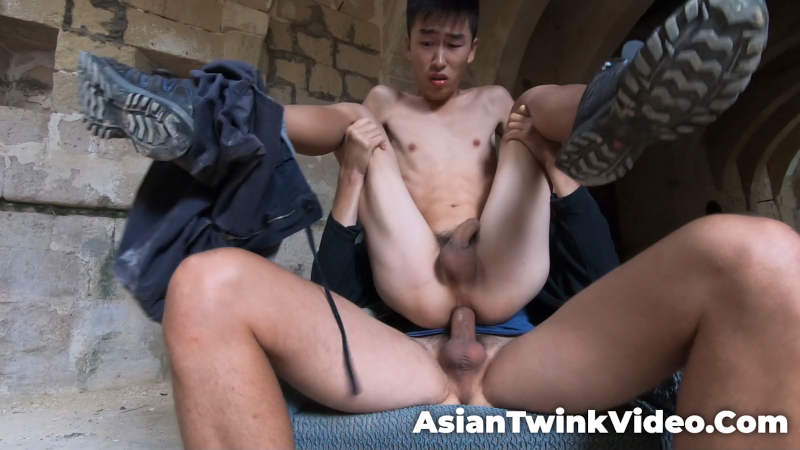 Adventures of Stallion and Bunny – Episode 14
THIS VIDEO IS ONLY FOR OUR FANS. HOW CAN YOU BECOME A FAN?
Join our fan club on Onlyfans.com or on Justfor.fans to see all of our premium content!
Choose one of these options to become a fan:
Join our Onlyfans.com page!
or
Join our JustFor.Fans page!
Watch preview:
Become a fan and watch the full video:
---
Stallion fucked his Asian twink boy like a slave and bred me until I couldn't walk this rainy day in an unplanned detour to an abandoned dungeon…
I obeyed him like I'd always do and prepared to wrap my tiny mouth around his hung cock
I didn't expect our revisit to one of our favorite places could get me into this much trouble. We went out to hike this rainy morning, as it was getting quite stuffy in the flat. The plan was to reach somewhere but the traffic's just not working here. So we had to walk a terrible long distance on the wild trails to get to the other side of the island. As we were going deeper into the country, we found ourselves in the mist of prickly pears where we were last time, when we had hot gay sex in abandoned castle. It suddenly started to pour down from the storm above and we had to get inside that dilapidated dungeon-like home of once a knight.
We jumped in over a wall and got inside the leaking chamber hall. It seemed like someone's been here just not long ago with the armchair now rearranged. We were a bit concerned that the dweller may be back at any time. We checked around and got back to the middle of the hall part where it's not leaking and decided to wait out for the rain to stop, but the setting kept on reminding us of the last time when he destroyed the twink ass in this ruin, and that got us all worked up, but there's a greater chance of getting caught this time around from people taking refuge from the downpour.
Stallion still fully-clad in his rainproof jacket took a seat on the dirty armchair in the middle and asked me to come over and get onto the big concrete brick in front. I obeyed him like I'd always do and squatted on top of the concrete block, leaning towards his crotch for warmth.
Stallion was panting from pleasure as I was fitting his piece into my sweet Asian mouth
Stallion slowly zipped down and revealed his half-erected cock in the middle of the empty space. He then requested me to service him on the spot.
I was apprehensive of our where-about but satisfying Stallion's needs and desire always comes first for me. With my body at the same level as his thighs, I bent forward and started to bashfully pleasing my master.
Stallion was panting from pleasure as I was fitting his piece into my mouth, and he laid back to the sofa more as I brought his tool to be pumping with blood, before he pushed my head to the root, gagging me to a reflex.
Stallion then picked up and began to pound his gay altar boy's face standing there as I was balancing myself on the ruined piece of concrete.
He then asked me to strip off my top, I obeyed and exposed my nipple to the chilling wetness, making it stiff up and my skin got goosebumps when Stallion reached down with his hand, rubbing me on my smooth skin. He pulled out and ordered me to turn around, drop my pants, kneel on the brick on my four and push up my ass, I obeyed and had to balance myself in the requested position, now entirely exposed in the middle of the room on the dusty now dirty wet concrete block, and Stallion just stood behind me and spat on his cock, prepping for his incision.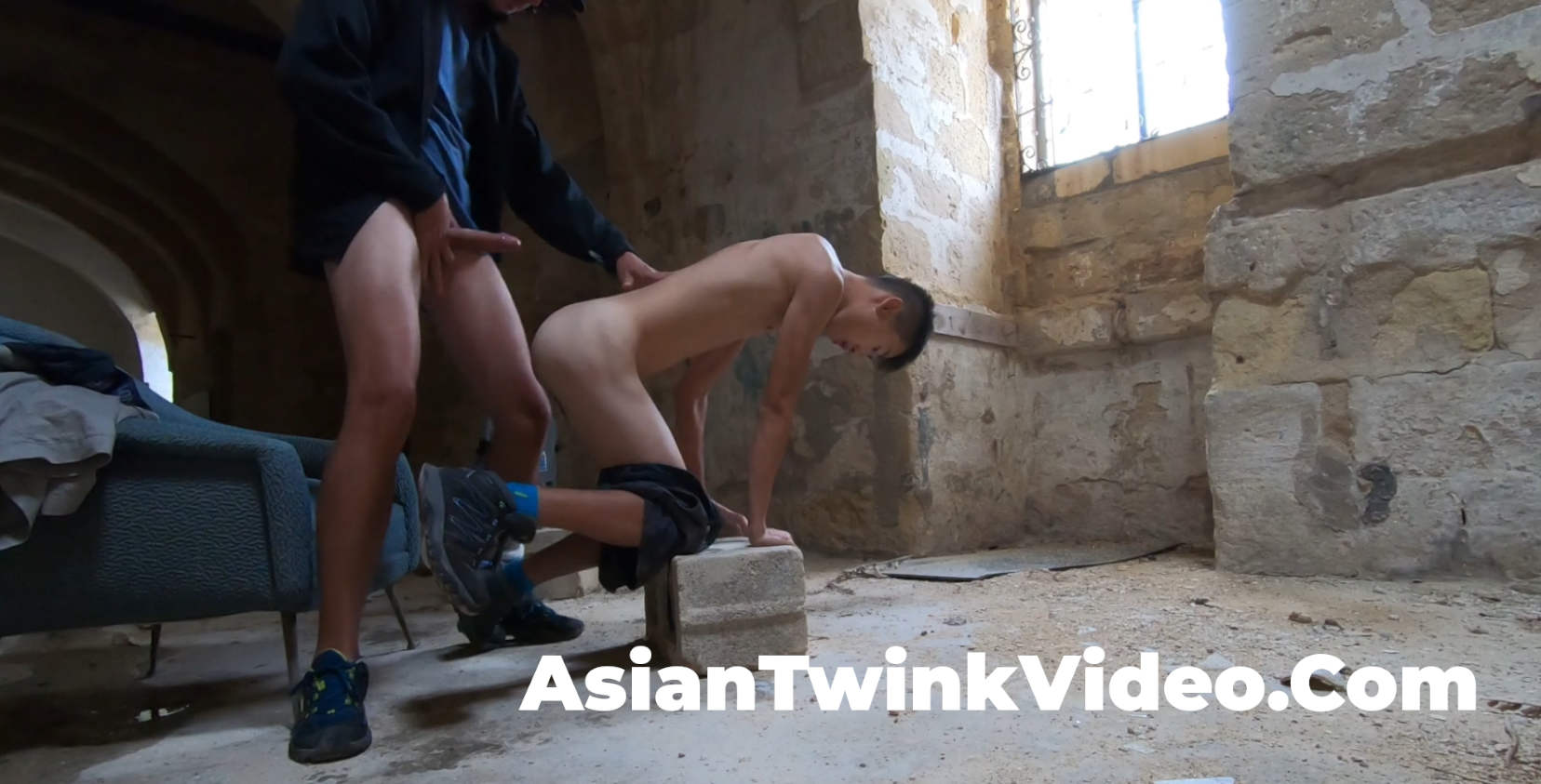 I moaned as Stallion spread my legs with his cock still inside and started to pound me from below
He rubbed his tip around my tight hole, now even tighter from the chilliness and throbbed it right down, gaping me without even bending his knees.
I took it all in, moaning in pain and pleasure while perching myself on top to get ready for a pounding. He pulled out and went all the way in again followed by a session of heavy pounding, as I moaned louder and louder.
The rain continued to dribble in around us as we continue to intensely fuck, now completely ignoring the chance of somebody popping in. Stallion then pulled out, I cried, and his cock bounced on my back as my hole contracted.
He took down his pants and sat back right on the dusty throne of an armchair still in his rain jacket, now wetted on the bottom by his own jizz. He commanded me to drop my pants off, I had to obey and took everything off, with only my heavy hi-top hiking shoes on and now completely dirty and wet underwear and shorts hanging on one leg. He held my ass cheeks up and backed me to between his thighs and told me to sit on him.
I did as I took his entire rod back in now even deeper as I'm sitting. I moaned as Stallion spread my legs, placed them on his with his cock still inside and started to pound me from below to my deepest point, as I can hardly support myself.
I was struck by the force and my G-point is getting destroyed by the heavy thrusting with my legs in the air. He then lifted my legs and my entire body up to further use my Asian twink hole, exerting his thrust from down below.
His hands now locking me tight and pushing up his crotch as he injected a three day load into my smooth twink ass
I was vocal hearing the reverberation of my panting and Stallion was moaning in excitement as he makes a strong push, dropping me down to wrap it all in and telling me he's so close, and asked me not to move. We were sitting there at the edge of explosion, as every little twist or breath I make would get myself bred so hard.
Stallion started to pant heavily after I gasped for air twice with him inside, he trembles as he senses every commotion in my body and held me back with his hands now locking me tight and pushed up his crotch as he injected the three day load into my stomach one burst after another, I could feel every thrust and the boiling heat cums into the core of my body, I started to move up and down to juice every single drop of him as his ball goes up and down still pushing it.
I was getting so close to explosion as the post-cum thrusting continues and finally exploded in his lap, my body spasming in excitement with his hung drained cock inside I pushed all my juice forward thudding onto the ruined floor.
We couldn't move from the muscle sores and stayed in the position for a minute or so and I was asked to stand up on my heavy shoe, turn around, lay on my stomach onto the sofa and show my destroyed boy-puss, I followed the instruction as I pushed up my ruined soring hole for display, with white juice streaming out in pulses, dripping from my sack to the sofa.
What a mess we made…