Asian Boy and Fit Stud Having Hot Gay Sex in Abandoned Castle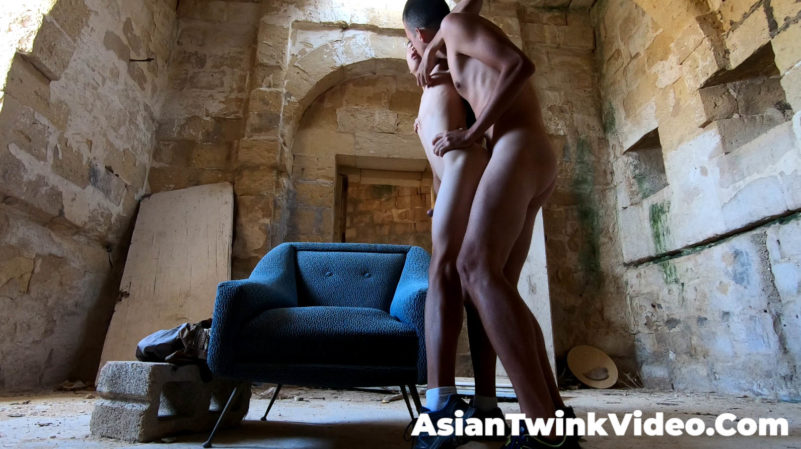 Adventures of Stallion and Bunny – Episode 2
THIS VIDEO IS ONLY FOR OUR FANS. HOW CAN YOU BECOME A FAN?
Join our fan club on Onlyfans.com or on Justfor.fans to see all of our premium content!
Choose one of these options to become a fan:
Join our Onlyfans.com page!
or
Join our JustFor.Fans page!
Become a fan and watch the full video:
---
We found an abandoned castle while out swimming
It's gets so hot here early afternoon on this Mediterranean island. When it hits siesta time, we start to sweat and had to take everything off or go for a swim. Both of which we did today.
We walked cross the small town we live in in search for a secluded beach to do some gay skinny dipping and have some fun nearby later, which Stallion insisted, be it outdoor or what not.
Torrid landscape hugs the tiny bay far out, we took everything off and jumped in naked to wash off the sweat, even though there were people walking by. We tried to hug in the sea water when there were passer-bys. Bodily touch outdoors gave us both a boner underwater. Haven't cummed yet today, we had to find a place to finish it off. So we started to hike around hiding the boners by tucking them up.
A dilapidated small castle-like ruin just on top of a barren trail caught our sight. We climbed in over the back wall to check it out. And as we were finding our way through the rubble, we got into an abandoned hall. It was absolutely left unattended but there was a couch right in the middle of it covered in dirt. The idea of kinky gay sex in abandoned building is really making us drip especially after the naked swim.
Stallion started to film a little of the place and then suddenly threw me onto the couch and started to untie his shorts' strings around his bulge, looks like we are going to have to do it here.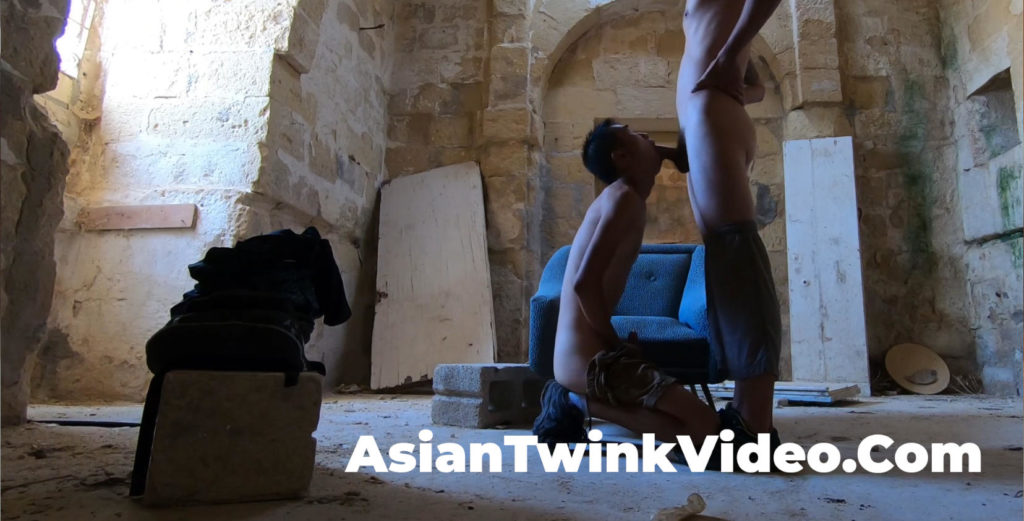 Hot gay sex in an abandoned building
He pulled out his hung horse cock and pushed me to kneel before the couch, then I started to work on it.
The saltiness of his skin from the sea and the raw cock taste quickly gave me a hard-on too.
It was getting sticky as he pushed it all the way to the back of my throat, I felt like I am choked in sea water as he's fucking my face through my tiny mouth. As he pulled out, it was dripping with my saliva mixed with salty liquid. We started to take everything off other than the shoe to mingle more into each other.
He turn me around, pushing me onto the dirty couch and started to wet my boy-hole, by spitting on me and pushing his piece against me around my tiny hole. It was hard to find his way in, trying out gay sex with size difference, as he was trying to thrust against me.
A painful and dazzling sensation struck me when I felt the tip of his thick root rammed into me, and I moaned uncontrollably, but I knew we had to stay silent as anyone could come in.
I held in my breath as he push deeper into me. My legs were shaking from the alien feeling inside me but as he touched my g-point, I became so aroused and my dick start to drip jizz. He held me up and was fucking me with more leverage, I had to tip-toe to reach his hip height, while supporting myself on the couch, he's pushing deeper and faster inside me towards my bowel, I don't know how I could take that much anatomically but it was pleasure in pain.
Anyone could hear the pounding although we were keeping silent, and suddenly we heard some crackling noise from inside the castle and we scrambled to take our pants on with wet mess inside and escaped to the other room. It almost gave me a heart attack, but our bulges in shorts were uncontrollable.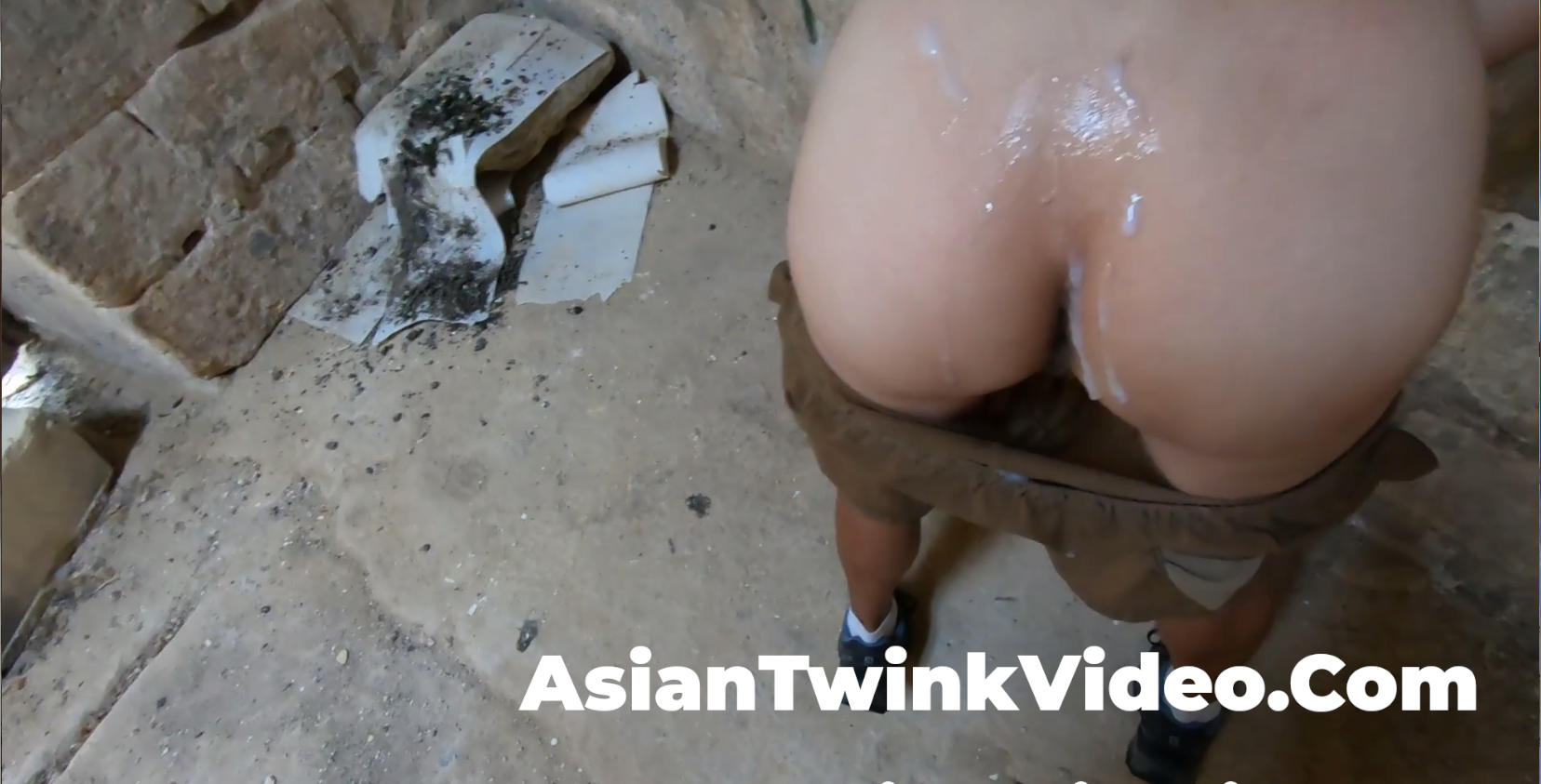 After he fucked me he came all over my tiny twink ass
After making sure no one is in, Stallion pushed me against the wall, ripped down my pants and pushed in with our clothes on. I grapple for the wall tip-toeing as I was penetrated.
The pounding sound was so loud and I couldn't hold in my moan. Stallion started to groan and pulled out his red cock to shoot all over the place, onto my back, leg, and around my hole.
I felt hot slime dripping from my entire backside as I was still reeling from traces of him inside me. I turned around and rubbing his cum back into my hole and climaxed dropping my load on the floor with slashing sound.
I could barely walk with my legs trembling, but Stallion quickly threw my clothes back on and we escaped the castle before anyone could find our marks all over the place…